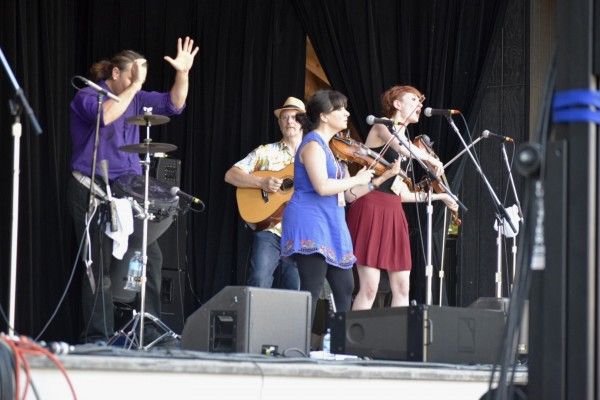 Philadelphia Folk Festival Main Stage 2016
 
Dear Friends and Fans of Celtic Music,
 
Happy Thanksgiving!  We are grateful for all your support, both at shows and in your online spirit. From the Philly Folk Fest to the Celtic Classic, the Maryland Irish Fest, and every show in between, thanks for cheering us on. You make it all worthwhile.

We have some wonderful news to share with you, our musical family. 

Rose is engaged to be married to Brian Buchanan in June 2017!

Yes, these two young musicians met ten years ago and then continued to cross paths on multiple stages and festivals along their musical journeys; Rose with BBC and Brian with his band, Enter the Haggis.
If you have been following our newsletters for a while, you may remember one particular story from February 2014. Heavy fog had caused Lou and Pete's plane to be delayed to Kansas City, on route to the Folk Alliance International Conference. The delays prevented their arrival in time for BBC's formal showcase. It was 30 minutes till showtime.

Kismet was in charge that day. Brian happened to be at the conference and at Rose's urgent bidding, he agreed to jump in with BBC, without rehearsal, and carry off the performance. It was a resounding success.
It may be that a special chord was struck that afternoon. By the end of that year, Brian moved from Toronto to Philadelphia. Since then, the two have formed House of Hamill, an artistic partnership producing a steady stream of original music and videos. If you have seen or heard any of this content, you have definitely witnessed their shared sense of humor!

This past September they released their first album of original music, "Wide Awake". The day before their CD release party, Brian's mom traveled down from Ontario to attend. It was on that evening that Rose and Brian surprised both families with the announcement of their engagement. It was a happy occasion, indeed!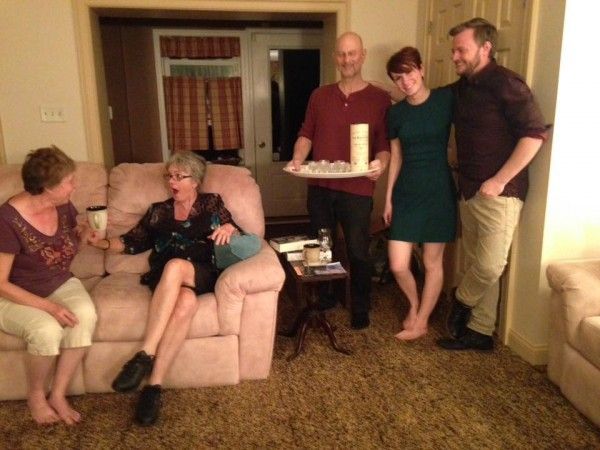 A Toast to the Happy Couple!
 
Going forward, the two of them will continue to perform with their respective bands, as well as book shows together as House of Hamill. By all indications, there will be lots more beautiful music to come! 


It means so much that you have come along with us this far, and we can't wait to share all the ongoing musical pursuits with you.

 
"What the world needs now is love, sweet love,
It's the only thing that there's just too little of
What the world needs now is love, sweet love,
No not just for some, but for everyone"
- Songwriter, Jackie DeShannon (1965)
 

In this spirit, we hope you can join us at an upcoming performance.
 
We look forward to seeing your smiling faces again soon. 
---
 
On tap this weekend . . .  

*Saturday, Nov 19, 2016*

Steel City Coffee House

203 Bridge Street
Phoenixville, PA 19460 

Showtime: 8:00 PM. Doors open 7:15.
BYOB. Food, soft drinks and coffee available.

 
---
Upcoming: 
*Saturday, November 26, 2016*
 
913 Washington Avenue
Bay City, MI  48708

Showtime: 7:30 PM

Holiday Concert
---
Last show in 2016: 
*Saturday, December 3, 2016*

Godfrey Daniels Folk Listening Room 

7 East 4th Street
Bethlehem, PA 18015

Showtime: 8:00 PM. Doors open 7:15.

BYOB. Snacks, desserts and soft drinks available.
---
For all show tickets and information, click the link on the venue name  OR check the calendar on our band website.
---
Love and cheer,
Rose, Amy, Lou and Pete 
http://www.cdbaby.com/cd/burningbridgetcleary6
http://burningbridgetcleary.com
http://facebook.com/Burning.Bridget.Cleary
Find us on Pandora Radio! 
---