Dear Friends and Fans of Celtic Music,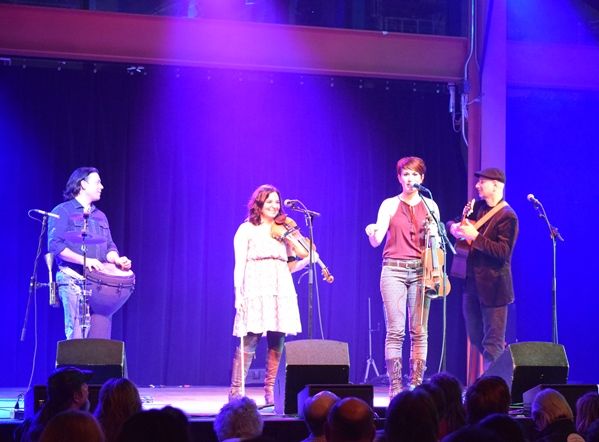 Thanks to EVERYONE who came out to see us this spring and summer!  From our home turf to New England, West Virginia and the Poconos to Ohio – we love performing for you and getting to know your faces!  Please check out the calendar below and plan to see us again soon.
CD News! Our new CD, "These Are the Days" is steadily moving towards completion. It's been a long time coming, and we're convinced that good things are worth waiting for. 
 
It's now the final stretch - and here's how you can help us wrap up this baby and present it to the world - through a program called Kickstarter.  If you aren't familiar with it, Kickstarter is an innovative website that enables people to raise enough funds to produce their projects.
 
We were able to produce and promote our last release, "Pressed for Time" through fan support via Kickstarter.  It was our most successful CD to date because that funding allowed us to afford the best recording services and a radio promotion campaign. Independent artists like us depend on new strategies for success – and music fans and supporters play a more vital role than ever. We are truly grateful to have such ardent and supportive fans.
 
There are real rewards for YOU available through a wide range of pledge levels in our new Kickstarter campaign.   Everybody wins!  Check out some of the fun reward levels:  Watch YoSelf,  This Time it's Personal, or Be Our Penpal.  Every pledge is valued and acknowledged.
 
If you're already planning to purchase our new CD this year, this is a cool way to get a copy before it is released to the public.  Not a penny is charged until and unless we reach our goal . . . and we only have 30 days to get there . . . so, please click and kick us over the finish line! Watch our short informational video, check out all the rewards, and we can work together to make it happen. These are the Days!
 
With Love and Gratitude,
Rose, Amy Lou and Pete
http://burningbridgetcleary.com
http://facebook.com/Burning.Bridget.Cleary
http://reverbnation.com/BurningBridgetCleary
Find us on Pandora Radio!
Upcoming Performances:
Aug 29-30: Buffalo Irish Festival, Buffalo, NY
Sept 6:  New World Festival, Randolph, VT
Sept 12:   Rochester Celtic Festival, Rochester, NY
Sept 25-27:  The Celtic Classic, Bethlehem, PA
Oct 23:  Bowers Barn Concerts, Walpole, ME THIS CONCERT TO BE RESCHEDULED IN 2016
Oct 24:  Sandywoods Center for the Arts, Tiverton, RI
Nov 7:  Circle of Friends Coffeehouse, Franklin, MA
Nov 21: FOCUS Music Concert, Mt. Vernon, VA