Dear Friends and Celtic Music Fans,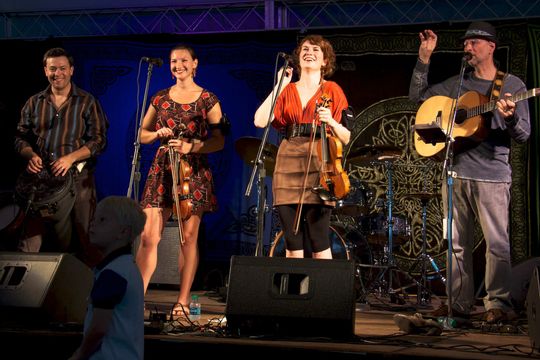 Burning Bridget Cleary to Celebrate St. Patrick's Weekend with Back to Back World Cafe Live Shows and a New Single Release!
(Photo credit: Tim Branscum 2012)
We hope you are all well and charged up for an invigorating St. Patrick's Day weekend!
First off, a HUGE thank-you to all who made our Kickstarter Campaign a resounding success last month. Thanks to you, we received enough pledges to cover the production costs for our new recording!
The project will be wrapping up in May, so when it gets closer to that time, we will send out survey forms to collect addresses, tee shirt sizes, etc., in order to fulfill your pledge gifts. Watch your inbox.
We have been busy little leprechauns over the past weeks with:
Sell-out shows in Philly, Maryland, and Barto, PA. Thanks to all who came out!
Recording!
Getting ready for THIS weekend!
AND . . .
---
Just last week, we released a new single! "The Ballad of Tim Evans" has been released in time for radio airplay for the St. Patrick's weekend. It's a Burning Bridget Cleary arrangement of a 1953 Ewan MacColl song - the true tale of a Welsh man, wrongly accused. It will be featured on our upcoming CD!
Furthermore . . .
To celebrate St. Patrick's Day and the new single release:
The first 100 people through the doors
of each World Cafe Live show will receive a
FREE download wristband of the new song! Huzzah!
What? You don't believe it? You wanna to hear it first? Click here, Skeptical Sal!
World CafeLive Performance Details:
Saturday, March 16, 2013
World Cafe Live at the Queen
500 North Main Street
Wilmington, DE 19801
8 PM with Openers Michelle McCann and Jon Kmetz
Phone: 302-994-1400
Tickets: $18 advance/$22 door
Tickets/Info: www.queen.worldcafelive.com
---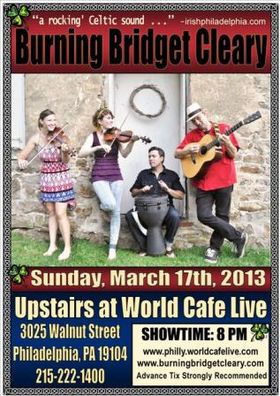 Sunday, March 17, 2013 - St. Patrick's Day
Upstairs at World Cafe Live
3025 Walnut Street
Philadelphia, PA 19104
8 PM
Phone: 215-222-1400
Tickets: $18 advance/$22 door
Tickets/Info: www.philly.worldcafelive.com
We hope to see a whole bunch of you this weekend!
Until we meet again . . .
"May your pockets be heavy and your heart be light, and may good luck pursue you each morning and night.
May your blessings outnumber the shamrocks that grow, and may trouble avoid you wherever you go. "
Love and Cheer,
Rose, Deirdre, Lou and Pete