Happy Celtic New Year to All!
Dear Friends and Fans of Celtic Music,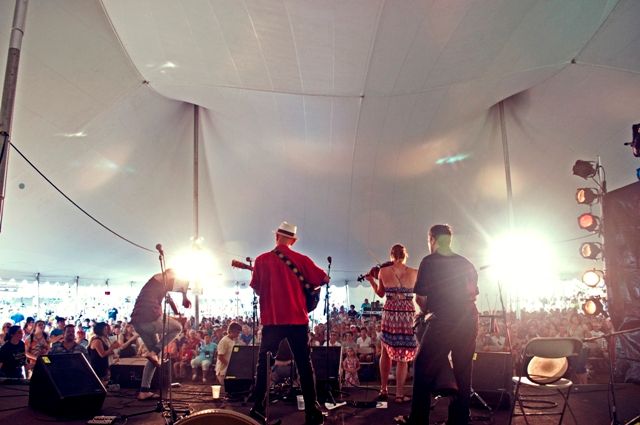 First and foremost:  THANKS to everyone who came out to the festival shows this summer and fall!  We were warmly welcomed from Maryland to Buffalo and everywhere in between. The 25th Annual Celtic Classic was extra special this year, with weather cooperating and record crowds - fantastic! 
---
 Happy Halloween or Samhain: The Start of the Celtic New Year!  As the leaves rustle in the wind, it's the perfect time for some spooky reading.  May we suggest:
"The Cooper's Wife is Missing: The Trials of Bridget Cleary"
by Joan Hoff and Marian Yeates.
Author and educator Joan Hoff, recently wrote to us to inquire if we had written any songs that included the Irish children's rhyme:
Are you a witch
Are you a fairy
Are you the wife
Of Michael Cleary?
Well, Joan, we'll put that in our musical thinking caps.  Most of you may already know that there are tunes commenorating the story of Bridget Cleary on our first two CD's. 
Want to learn more about this mystical time of year?  See below for some history behind "Samhain" (sow-een). 
---
Our fourth CD is in the works, with a tentative Spring 2013 release date. Deirdre will return from Rome in six short weeks,  and the recording sessions will begin flowing again. Until her return, Shelley Weiss, the lovely fiddle-maven from the Barleyjuice band, will fill in for Deirdre.
---
 "We're just a travelling band . . . "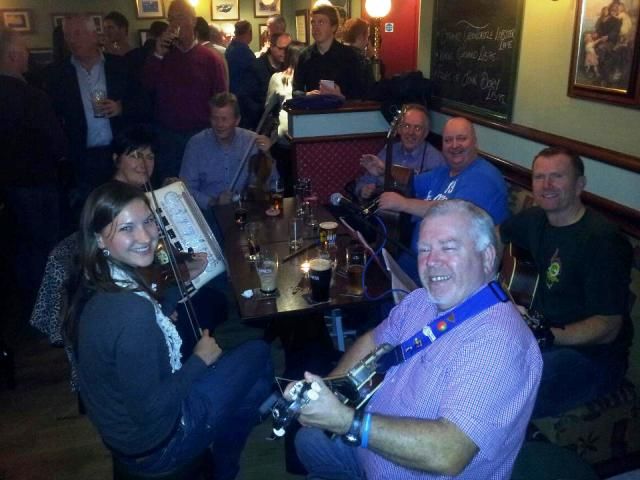 Deirdre spent her semester break in Ireland last week.  Here she is at a session in County Down. Her cousin, Gerard McKay, is seated across the table from her with his guitar.  Thanks to Gerard for sending the photo!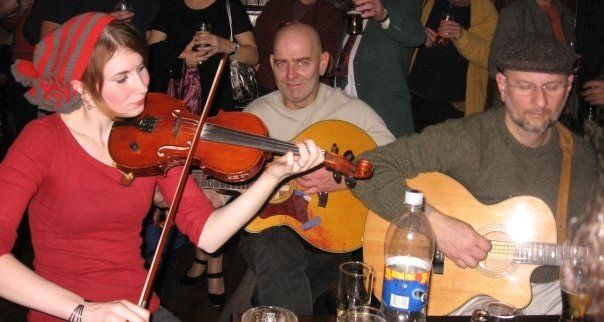 Rose and Lou at the Old Ground Hotel, Ennis, County Clare in 2007 with Irish guitarist, Sean O'Gorman. Notice Sean's taped fingers and bl**dy guitar?  This photo was taken the week following the Ennis Trad Fest, where musicians sometimes play for five days straight.  Rose and her boyfriend, Nate, will be attending this year's festival: November 8th-12th.  
Don't forget the band-aids and the No Doz!  
---
Northern Ireland Tour 2013:  Travel with us in 2013 to  Northern Ireland!  Together, we will explore a land of ancient mysteries - locations like Newgrange, Tara, and the Giant's Causeway, set against the soundtrack of Celtic music.  If you have not yet signed up on the "tour interest" list, just reply to this e-mail to get information about travelling to Ireland with "BBC" in June or July of 2013. 
 Friends, once again, we couldn't do it without you!  Please check the band calendar below and plan to come out and celebrate the beginning of a fresh new year with "BBC"! 
Love and Cheer,
Rose, Deirdre, Lou and Pete 
http://burningbridgetcleary.com
http://sonicbids.com/burningbridgetcleary
http://reverbnation.com/#/burningbridgetcleary
To get "up to the minute" band news, find us on Facebook.
Upcoming Calendar Dates:
Nov 16, 2012:  Live interview at 1 pm on WDVR.org, "Bleeker Street Cafe" (noon-3 pm)
Nov 17, 2012:  Concerts at the Crossing, Titusville, NJ, 7:30 PM with openers, "We're About Nine"
Dec 8, 2012:  Steel City Coffee House, Phoenixville, PA, 9 PM, on the night of the Firebird Festival
Dec 9, 2012:  A Celtic Christmas Concert at St. Malachy's Parish, Cochranville, PA, 4 PM
                                   with dulcimer music by, "From the Well"
Jan 18, 2013:    PSALM Salon, Philadelphia, PA, 8 PM - A "Gene Shay Presents" Evening
---
Samhain 
"Samhain marks one of the two great doorways of
the Celtic year; for the Celts divided the year into two seasons: the light and the dark, at Beltane on May 1st and Samhain on November 1st.  Some believe that Samhain was the more important festival marking the beginning of a whole new cycle, just as the Celtic day began at night; for it was understood that in dark silence comes whisperings of new beginnings, the stirring of the seed below the ground.  Whereas Beltane welcomes in the summer with joyous celebrations at dawn, the most magically potent time of this festival is November Eve, the night of October 31st, known today, of course, as Halloween.
Apple Magic
At the heart of the Celtic Otherworld grows an apple tree whose fruit has magical properties.  Old sagas tell of heroes crossing the western sea to find this wondrous country, known in Ireland as Emhain Abhlach (Evan Avlach) and in Britain, Avalon.  At Samhain, the apple harvest is in, and old hearthside games, such as apple-bobbing, called apple-dookin' in Scotland, reflect the journey across water to obtain the magic apples.
Dookin' for Apples
Place a large tub, preferably wooden, on the floor, and half fill it with water.  Tumble in plenty of apples, and have one person stir them around vigorously with a long wooden spoon or rod of hazel, ash, or any other sacred tree.
Each player takes their turn kneeling on the floor, trying to capture the apples with their teeth as they go bobbing around.  Each gets three tries before the next person has a go.  Best to wear old clothes for this one and have a roaring fire nearby so you can dry off while eating your prize".   (To read more of this article from the Celtic spirituality website, Chalice Centre.net., click here).
---
 A Traditional Samhain Blessing
May the ancestors deliver blessings on you and yours...
May the new year bear great fruits for you...
May your granted wishes be as many as the seeds in a pomegranate...
May the slide into darkness bring you light...
May the memories of what has been keep you strong for what is to be...
May this Samhain cleanse your heart, your soul, and your mind!