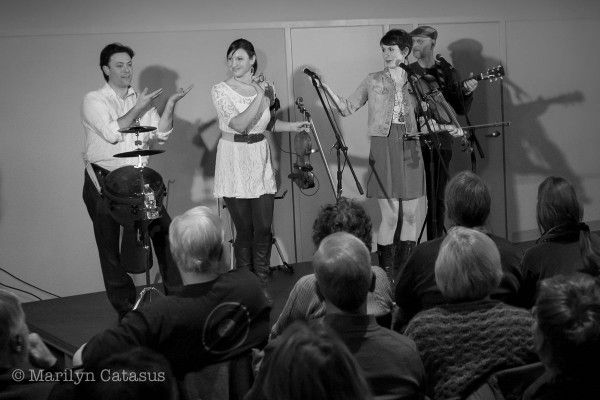 Burning Bridget Cleary at the CT Folk Acoustic Friday Concert March 7, 2014
Photo by Marilyn Catasus
Dear Friends and Fans of Celtic Music,
The long winter is over and the birds are singing again!  We hope you are all feeling like spring chickens in a field of daffodils!  Thanks to all of you who braved the polar temperatures to come see us over the past months. Our fans are certainly an intrepid lot!
The December Steel City Coffee House show was cancelled due to snow and ice, but the rescheduled evening in February was sold-out!  Also in February, we travelled to Kansas City for a formal showcase opportunity at the Folk Alliance International Conference.  Weather conditions kept Lou and Pete's flight grounded all day and they entirely missed the showcase. Oh no!  Fortunately, the musical community stepped in and did some magic.  Our new heroes, Brian Buchanan (Enter the Haggis) and Cheryl Prashker (Runa) filled in the band; the Stray Birds lent us their fiddle mics, and Bob Gramann lent us a handmade guitar. The 30 minute showcase went off without a hitch and the day was saved!
With better weather on the horizon, we're ready to roll into a whole bunch of tour dates . . .
First on the ticket: a BBC New York City debut!
Friday, April 25th at 8:00 pm
*185 Orchard Street or 196 Allen Street 
New York, NY  10002
*Heads up, Travelling Fans!  These 2 street addresses are connected by an interior hallway.
Please recommend this show to any friends and relatives in the NY Metro area.  We're testing the waters in the Big Apple, so if you can help us fill this venue, we'll be forever grateful! 
Rockwood Music Hall is known as the place to hear live music in NYC.  All tickets are are seated.  Ages 21+ for this show.
---
Philadelphia area fans:  This one's for you!
Saturday, May 3rd: an All Day Celtic Festival Event
Ed Kelly Amphitheater in Pennypack Park
Welsh and Cresco Streets
Philadelphia, PA  19136
 (BBC Performance:  5:00–6:00 pm on the Ulster Stage) 
Check out their website!  There are just too many great bands to list! 
 (hint . . .  "Yo, Seamus!") 
Advance discount and group rate tickets are available online.  Children 12 and under are FREE.  Bring your lawn chairs and settle in for an amazing line-up of Celtic entertainment, a Ceili, a Feis, vendors and much more!  Gates open at 11:00 am. 
---
Wilmington, DE:  It's your turn!
 Saturday, May 10th at 8:00 pm
500 N. Market Street
Wilmington, DE  19801
This show will be a rare evening indeed because our friends from Ireland, the bad, rad, trad band, PortherHead, will be rockin' the opening set!  We can't wait to introduce you to these talented, charming and funny lads!  Tickets are on sale now.
May and June are packed with more fantastic shows.  The Shawnee Mountain Celtic Festival, a first-time show in Vermont, the SteelStacks Levitt Pavilion Summer Concert, etc.  Lucky ducks are we!  Check the complete schedule below and mark your calendars to come and see us soon!
---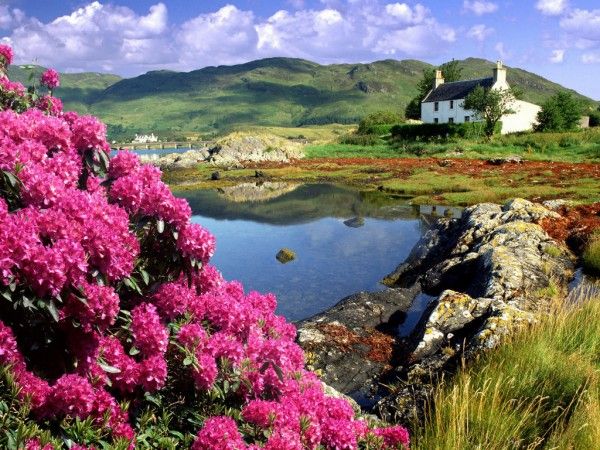 Here's some BIG NEWS!  Come with us to Ireland in 2015!  We're delighted  to announce that - in association with Gerry Timlin Tours - BBC is planning a summer 2015 musical tour of Northern Ireland.  Our working dates are July 24-August 2nd. If you are interested in receiving more information about this fully escorted motor coach tour, please send an e-mail request to: info@burningbridgetcleary.com.
 We will send out a tour e-mail to interested parties in the coming weeks. Our 2011 tour was such a blast, we are yearning to do it again; and this time YOU can plan ahead to come with us!  
---
Once again, we are here for you and because of you.  We're all in this together, dancing around the sun once again to lovely Celtic music! We look forward to another wonderful year and can't wait to see you all in 2014!
Love and cheer,
Rose, Deirdre, Lou and Pete
http://burningbridgetcleary.com
BBC YouTube Channel: http://bit.ly/1f6Tcsn
http://www.airplaydirect.com/music/burningbridgetcleary 
To keep up to the minute with BBC news, find us on Facebook!
P.S. Recording news! Work has begun on the next Burning Bridget Cleary CD at Cambridge Sound Studios in South Philadelphia (Jim Salamone, Owner/Engineer).  We are shooting for a 2015 release.
In early March, two more tracks from "Pressed for Time" were featured on Fiona Ritchie's "Thistle and Shamrock" on NPR. You can listen to an archived version of the show here.