It's almost impossible to believe that half a year has passed since our last update.  

We traveled to over a dozen new towns since April and made countless new friends along the way - it was wonderful to see your faces, both new friends and old. A thousand thanks to all of you who came out to our shows over the spring, summer and fall!  

Without further ado, let's get you up to date.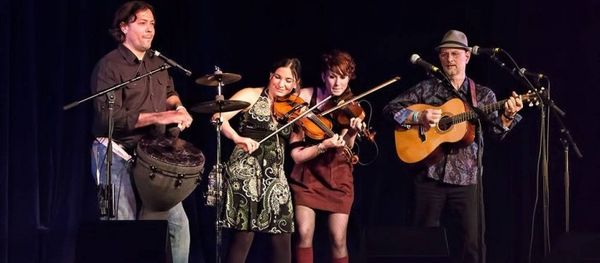 Last weekend in the Catskills: BBC Formal Showcase
2014 NERFA Conference
(Photo courtesy of Jake Jacobson Photography)

Did you notice a new face?  Yes, Deirdre gave her notice last spring, after landing a full time career job.  We are very grateful for the two years she shared her talents with BBC and we wish her every happiness and success in the future. We know she'll continue to do great things!
 
Since September, fiddler/vocalist, Amy Beshara, has been featured regularly with us.  Amy is an integral player in the Scottish fiddle circle of NYC and an established music teacher in the Montclair, NJ area. We are delighted to have found her after an extensive search - we have Pete to thank! If you have not yet met Amy, we can't wait to introduce her.
---

Lancaster area fans, it's your weekend!
This Saturday, November 22nd:
The Rose and Shamrock Festival
at 
The Ware Center
42 N. Prince Street
&
Tellus 360
24 E. King Street
Lancaster, PA 17603
 
Festival hours:  1:00 PM – 1:30 AM
 
This expanded new Celtic festival includes 12 concerts between two indoor venues, workshops, dancing, and vendors galore. Food will be available for purchase at both locations. A meal ticket is included with the ticket price. Tickets are $35 advance and $40 at the door. $10 for children 10 and under.
 
BBC Holiday Special in Lancaster: All BBC tee shirts are 33% off at this show only!
---
BBC Holiday Special for Everyone:  In appreciation of your year-round support and kindness, for the next two weeks (through December 6th), all our full-length albums purchased through CD Baby will be available at 20% off the regular price. Buy multiple CD's and get another 20% off. 

WAIT, there's more! If you make your CD Baby purchase between December 1st and December 3rd, CD Baby will offer shipping to anywhere in the world for only 1 cent!  "Stocking stuffers for all", we say!
---
BBC Music news: On September 10th, BBC released a new MP3 single called "Another Day".  We are delighted to announce that it was the #1 song for October on the Folk DJ Radio Charts! The song was written by Tim O'Brien and Darrell Scott and it will also be included on our new CD, planned for a spring 2015 release. Stay tuned!

You can listen to "Another Day" here.
---
Also coming in 2015: Ireland! Our summer tour of the Northwest and Northern Ireland will roll out from Belfast, July 24th – August 1st!  The itinerary is IN and we want YOU to come along! This fully-guided 8 night land tour has been custom planned by Gerry Timlin Tours.  Gerry is a trusted friend & musical colleague, who has planned and hosted countless tours to his native Ireland. You may know him as half of the musical duo, Timlin and Kane, who had the honor of playing at the 2014 Saint Patrick's Day reception at the White House!

Want to get on the bus with us? Click here for all the tour details and a flyer. Got questions?  Gerry Timlin is your man, and he looks forward to providing the details and reserving your places. Contact him at: pgtimlin@aol.com. Space is limited, so don't delay.
---

Moving into the New Year, we have performances booked at some exciting venues, both new and familiar.   Please check the list below, mark your calendars, and invite family and friends!  If you are on Facebook, please "like" our page to keep in touch with us through more frequent updates.
As another Thanksgiving approaches, our thanks and gratitude go out to you for coming out to shows, buying our music, and cheering us on.  It's your support and encouragement that keeps us going and growing year after year. 

We extend our warmest wishes to you and your family for a truly happy and healthy holiday season.

With love and cheer,
 
Rose, Amy, Lou and Pete

http://burningbridgetcleary.com
http://facebook.com/Burning.Bridget.Cleary
http://reverbnation.com/BurningBridgetCleary
Find us on Pandora Radio!
Upcoming Calendar:
Dec 27:  Philabundance Benefit Concert with A Fistful of Sugar, Beaucoup Blue, (more acts TBA) at Connie's Ric Rac, South Philadelphia, PA
 
Jan 10:  Hurdy Gurdy Folk Music Club (co-bill with Harpeth Rising), Fair Lawn, NJ
 
Feb 14-15:  The Savannah Irish Festival, Savannah, GA
 
Mar 7:     The Sounding Board Coffee House, West Hartford, CT
 
Mar 8:    Club Passim, (3:00 PM Matinee Show), Cambridge, MA 
 
Mar 14:     The Musikfest Café, w/ Pipers Request, Bethlehem, PA
(TICKETS ON SALE NOW)
 
April 11:   World Café Live at the Queen, Wilmington, DE
 
 April 25:   Blackstone River Theater, Cumberland, RI

June 19-20: WNC Highlands Celtic Festival, Asheville, NC